The Beginning
Sometimes in your Salesforce Org, you come across instances where you may have to check for an account, contact, lead or any other object to see if there are any duplicate records. Although this sounds simple, it can be very time consuming to search for duplicates if you have thousands of records in your organisation. If you think of alternatives to curb duplicates, one thing that comes to your mind is AppExchange.
The "Duplicate Check for Salesforce" app is the one you need at your disposal. With this app, you can save a lot of man-hours and enhance productivity at your workplace. It was released in June 2011 by  "Plauti B.V" headquartered in The Netherlands. There are two main things it helps you with:
It can search for duplicate records from any object.

If you have a doubt about any name appearing twice, you can search for it manually too through this app.


Image source : duplicatecheck.com
 What we need to know?
Finds duplicates, prevents duplicate records and merges duplicate data.

Finds duplicate records, merges duplicates and prevents duplicates in your Salesforce.
What makes Duplicate Check unique?
Highly customizable:
Duplicate Check for Salesforce is highly customizable and can easily perform fully automated deduplication jobs. It works with any particular kind of Salesforce database and can be configured according to our interests.
Safe and secure:
With this app, a 100% native force.com application, no data transfer is needed in order to find and remove duplicates, which means no data ever leaves your database.
What is the old school way of doing things?
Duplicate Rules:
Duplicate rules in Salesforce can be found at Data.com Administration > Duplicate Management > Duplicate Rules. Once matching rules are activated, users can create new duplicate rules on objects. To create new duplicate rules, users should have Customize Application permission. While creating a new rule, users need to enter the rule details — including record-level security and field mapping for each field used in selected matching rules. If we want the rule to run for specific records of objects, we can define the entry criteria for the rule.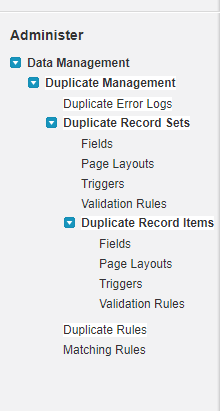 Administration > Duplicate Management > Duplicate Rules.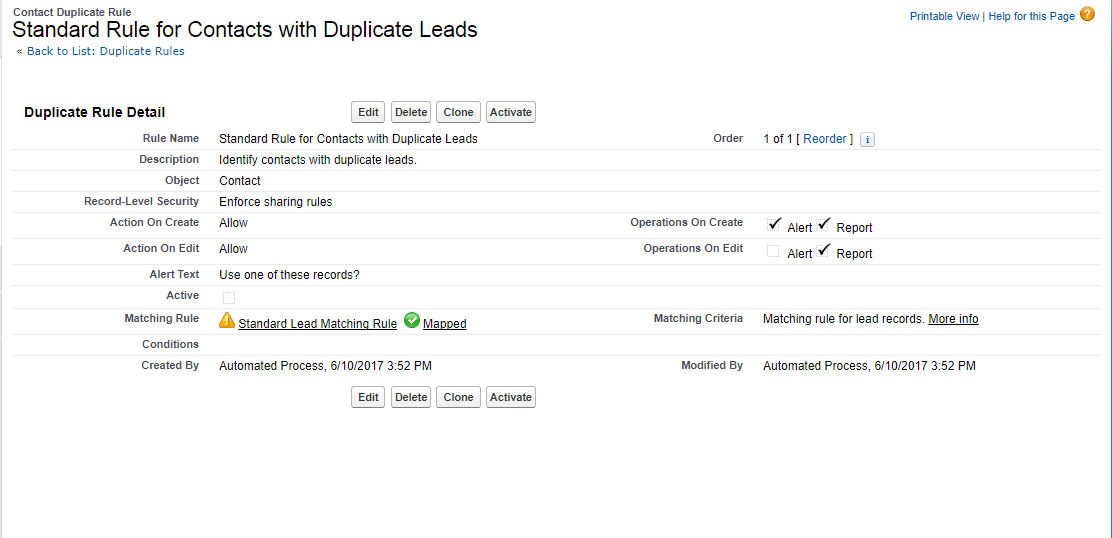 Duplicate Rule
Once a duplicate rule is set up, it works in 3 steps :
Step1: The criteria used to compare records and identify the possible duplicates are defined by a matching rule.
step2: Records being saved are identified as duplicates and a list of possible duplicates are returned.
step3: Duplicate rules will block users from saving possible duplicate records.
How Does the App Ninja Help?
Duplicate Prevention:
Once your Salesforce org is clean, you do not want duplicates to return. Duplicate Check alerts your users in real-time when a record that already exists is being created. We can prevent every duplicate record from coming in – no matter what way the record enters your Salesforce.
Merge Duplicates
The app helps you to merge duplicate records quickly, manually or automatically. You can also schedule your deduplication process with the help of this app; find the duplicates and merge them, without any kind of user interaction.
Find duplicates
Duplicate records can appear in your Lead, Contact and Account object or in any of your own custom Objects. With Duplicate Check installed, you will be able to find duplicates in all Objects. In addition, Duplicate Check finds and matches together records that contain spelling errors.
Configure
It is necessary to have an application that can adapt to each unique Salesforce database. The Duplicate Check app works with any kind of database and can be configured accordingly. Every Salesforce Organization is different and therefore you need an application that can adapt to every situation. Duplicate Check can be configured to suit your personal needs and wishes allowing you to find duplicates exactly the way you want it.
How does it work?
1) This app can search for duplicates that are sometimes misspelt. For instance, if you are searching for the name "Sachin", it can search for the misspelt records say "Sachn" etc. The provider of this app calls this "Fuzzy Matching".
2) Once you search for the duplicate records, it can give you an option to either discard the duplicate records or merge the records.
3) It has its own layout of the app. It has 5 tabs. They are DC Search, DC Setup, DC Job, DC Discards, DC Entry. You can also add multiple tabs manually if you are using Duplicate Check in conjunction with respective objects.



4) It also has the feature to enter the records afresh to the required object.
5) There are 3 editions of this app: Free Edition, Free-Plus Edition and Advanced Edition (which is Paid). The screenshot of its features is given below.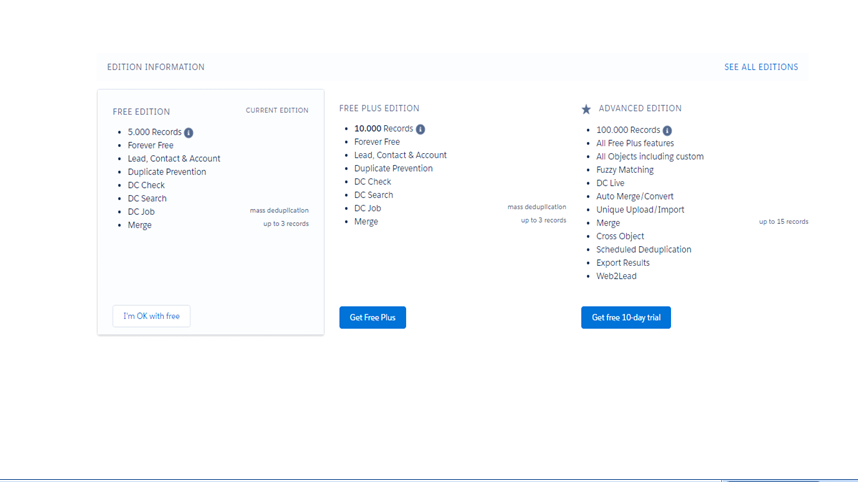 Real Life Scenario
Since I am using the "Free Edition" of this app, I have the option to work on Account, Contact and Lead. For my examples, I have chosen Account.
       Before using the app, I created 3 accounts by the name "Dazeworks". I did this just to verify the result from the app.

       I went to the app "Duplicate Check" and clicked the tab "DC Job". After clicking the tab, I got the below pop up. In the pop-up, you have 3 fields to enter. For the "Job Name" you can enter any name. I entered "Duplicates" since we are searching for Duplicates. Next field I chose Account and clicked Start.
After clicking Start, the job processes and once the result is complete I will be redirected to the below screen.

From the above screen, I need to click on "View Results". I will get the below screen. Notice from the screen that the searches are not case sensitive. I deliberately entered the word "Dazeworks" using a mixture of Caps on and off.

As you can see from the screen, you have two options. One is Merge and the other is Discard. I chose to Merge records for this one and you will come across the below screen.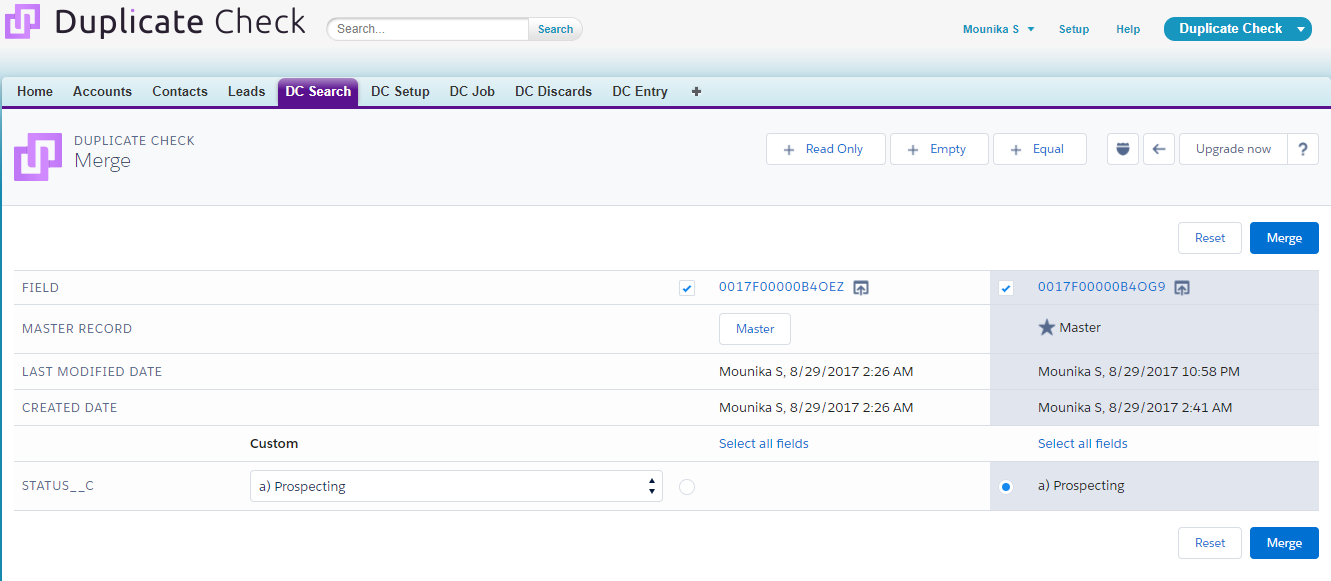 You can choose the exact record for merging and you have to click on "Merge" again. Now all the duplicates are merged into one record.

Now let us do a search manually. Let us click the tab "DC Search" and under Account Name, let us enter "Hello abc" and click the button "Search Account".

I get the below screen with duplicate entries found and I have the option to Merge them.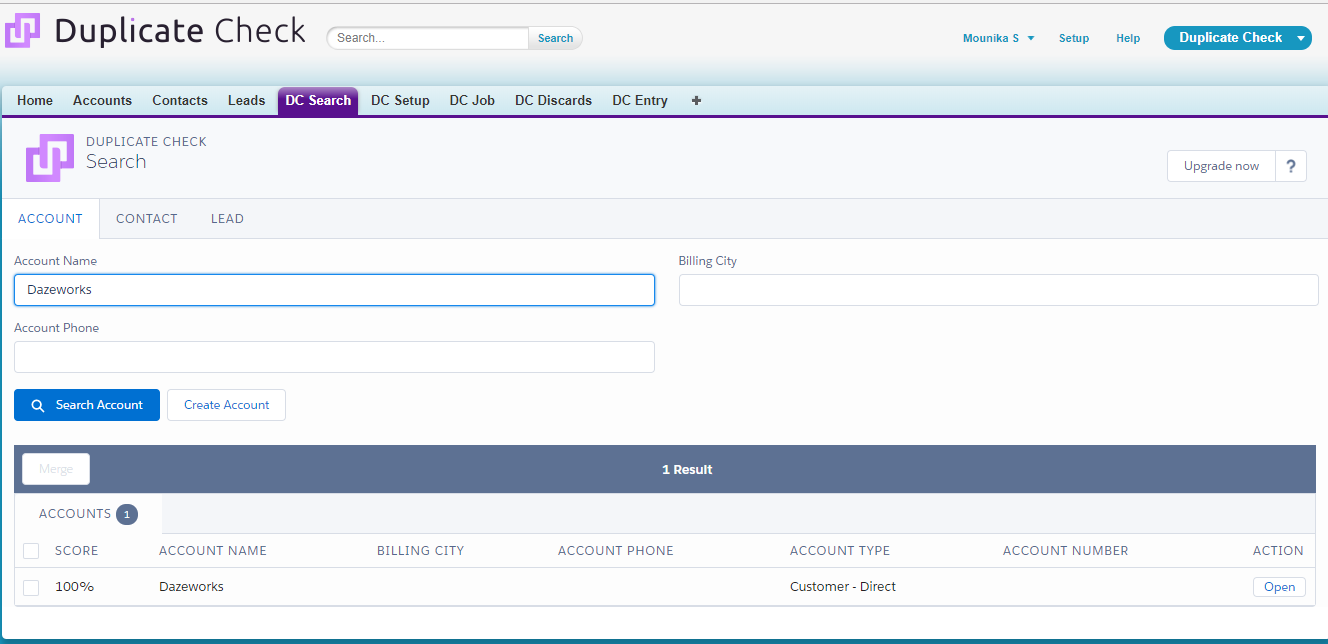 As mentioned you can even do a record entry. You need to click on the tab "DC Entry" and choose the object. You get the below screen to enter the details.

Conclusion
The application is highly customizable and can be configured to fit the exact needs of your particular database. A 'Duplicate Check Job' will analyze and deduplicate your entire database by your preferences. 'Auto Merge automatically merges duplicates, possibly saving hours of your time. 'Duplicate Prevention' will prevent you and your colleagues from entering duplicates. Both standard objects, as well as custom objects, can be deduped.