The Beginning:
Cumulus Force's main motto is to reduce the storage space in the org by archiving the old emails from the org that is no longer needed. Archived emails will be stored under file storage. First launched by Cumulus Force in 2015, the app also supports restoring the emails that were archived back into the Salesforce.
What You Need To Know:
There are two things we need to know to use this app
How to add buttons to the page layout?
How to schedule Archive emails? (Please refer how it works section)
What is the Old School Way Of Doing Things:
Currently, there is no such standard functionality in Salesforce to archive the emails. Particularly for customer support companies, email communication is very important and that is consuming a lot of space in the storage too. The only way out is to archive the old emails from the org.
How does Appy Ninja Help?
It is one of the best apps that I have used. In Salesforce, it's quite expensive when it comes to storage. This app helps to archive the emails of the cases that are no longer needed and if we need to restore the emails, that can also be done. You can restore all your archived emails in just one click.
How does it work?
 Once, case emails are archived, the emails will be deleted from the case, and it will be added into the attachments. Archived case emails will remain in Salesforce org under file storage and thus can be considered a safe and secure way of archiving.
Archive Case emails can be performed in a few clicks and it is the same for restore.You just have to open a case and click the Archive or Restore button. If we restore a case it will again add all emails back from the attachments.
 There are two ways to archive a case
Manual Archive

Using Case Detail Page to Archive and Restore Email
Using App to Archive and Restore Emails

Schedule Archive
Manual Archive in case detail page:
Once we install the app, we can find the Archive and Restore buttons in all "Case Page Layouts". With a simple task of clicking on the Archive button to archive emails, all the emails will be added to the attachments sections.
Step 1:
When clicking on Archive button, all the emails are moved to attachments.
Before Archiving:

After Archiving:

Restore Emails:
To restore all emails, get them all back with just a click on the Restore button.
After restoring:
All the attachments will move back to emails once it is restored.

Using App to Archive:
Step 1:
Select Archive Email to Case from the App menu.
Step 2:
Select Archive Case Emails from the tab.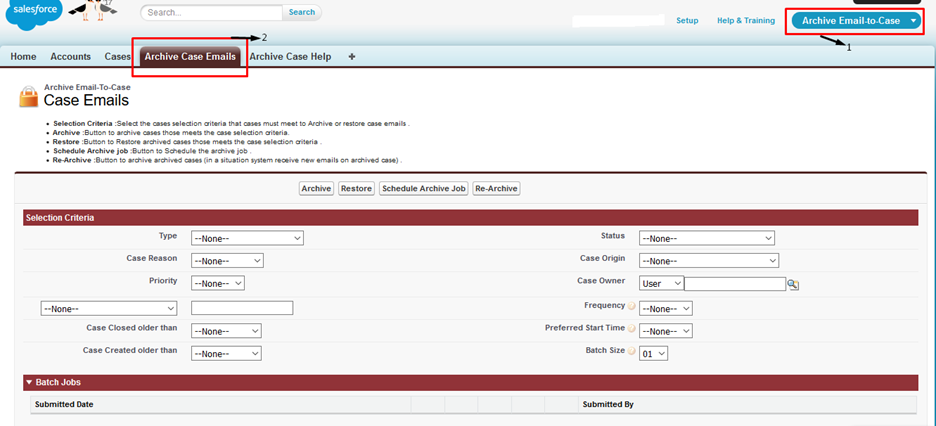 There are different criteria where you can select cases that need to be archived
Case Type
We can select the case type that needs to be archived.
Case Reason
We can select the case reason that needs to be archived.
Priority
We can select the priority (High, Medium, Low) of cases that need to be archived.
Status
We can select the status (for example Closed cases) of cases that need to be archived?
Case Origin
We can even select the Case Origin (like Email, Phone).
Case Owner
We can select the Case Owner's case that needs to be archived.
Step 3:
Select the criteria of a case that needs to be archived and click on the Archive button. This will Archive the cases manually.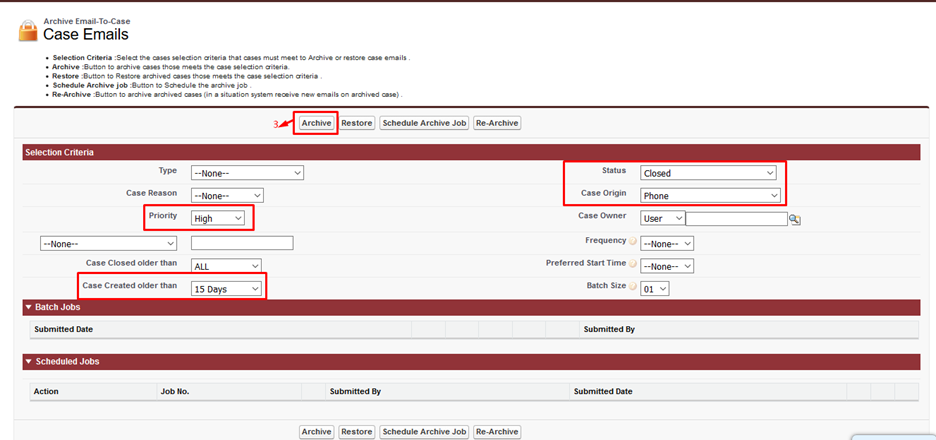 Manual Restoring Emails:
 Restoring is the same as archiving, we just need to select the criteria and click Restore button to restore all the emails that archived.
Schedule Archive:
Through schedule archive we can schedule the time when the records need to be archived and which all records need to be archived.
There are different types that can be used while schedule archiving cases such as the following
Case created older than
When we click the drop down, we can get the following options to archive the cases accordingly.
Case closed older than
Like "case created older than","case closed older than", will have same options in the dropdown through which we can archive cases according to the requirement.
Frequency
Through frequency, we can even archive a case by Daily, Weekly, Monthly.
Preferred start time:
Through preferred start time, we can select the time when the schedule has to run.
Batch Size:
When archiving large number of cases, batch size should be minimal so that it will not break anytime.
How to Schedule cases to archive?
Step 1:
Select Archive Email to Case from the App menu.
Step 2:
Select Archive Case Emails from the tab.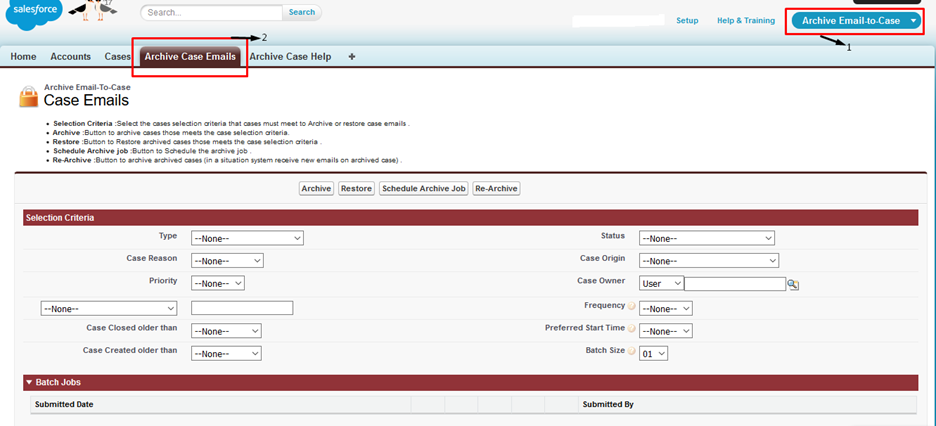 Step 3:
Once you select the criteria of cases, click on "Schedule Archive Job" button.

You will now be able to see the Scheduled Jobs.
This batch will run daily at 1 AM with case closed as status, case origin as email, case priority as low and case closed older than 15 days. All the cases that are related to above criteria will get archived daily.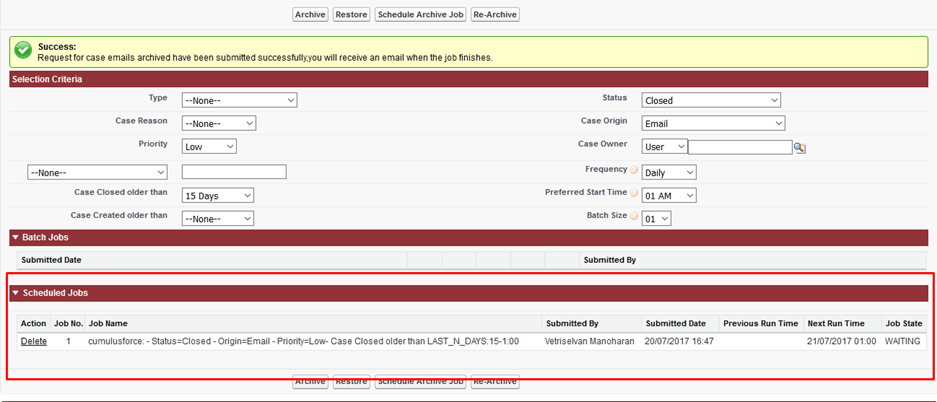 Conclusion:
Hope this gives an idea about Archiving and Restoring emails in the cases. This app really helps to keep the storage in the limit instead of buying an extra storage.