Global tech giants have been eyeing the Business Intelligence (BI) space with every player wanting a piece of the action.The recent spate of acquisitions should be proof enough of that. Sisense-Periscope Data, Logi Analytics-Zoomdata, Google-Looker are some of the big names to pick up on this trend! And the latest acquisition to make news is the all-stock purchase of Tableau by tech giant Salesforce.com, in a deal worth a whopping $15.7B. So what exactly does this mean for customers, partners, developers and admins out there? Here a few predictions from our ninjas on what the post-acquisition world will look like.
Prediction #1 – Salesforce will continue on its path of diversifying beyond core services of CRM
CRM has undeniably been a Salesforce forte. With a 19.5% market share in 2018, they account for more than twice the CRM sales of SAP and thrice that of Oracle.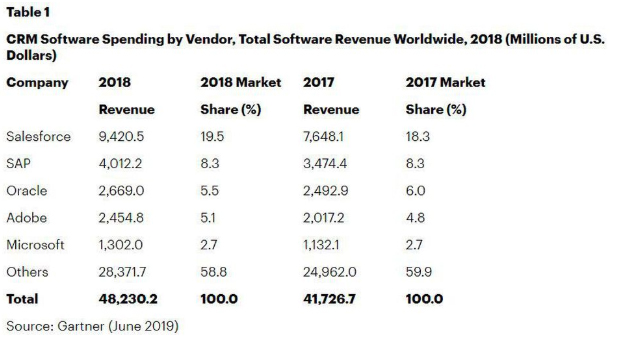 Recent innovation roadmaps and announcements from Salesforce have made it loud and clear that their vision for the future and their own growth is not limited to just CRM services. A close look at the evolution of their product suite and roadmap will show that they have been diversifying beyond their core service of CRM. They have been dabbling in newer areas like integration with their Mulesoft acquisition in May 2018. The Tableau deal is also one such attempt focused on the relatively new area of data visualization enabling companies to provide data insights to their clients. This is in line with the Salesforce Customer 360 endeavor that was announced last year. Customer 360 brings the customer to the center of every engagement and provides companies with unified, consistent and cross-channel customer experiences. With the Tableau acquisition, Salesforce is well on its way towards building a complete solution that encompasses the three cornerstones of digital transformation – customer focus, integration capabilities and analytics & visualization.
Prediction #2 – Salesforce may continue to follow a strategy of buying growth rather than just leveraging organic growth.
Salesforce has a history of taking the faster (and probably smart) road to innovation. A company can choose to develop innovation in its own labs back home or just rely on the ones who have already proved themselves. Think of their acquisitions of ExactTarget (Marketing Cloud), Mulesoft (Integration Cloud), Demandware (Commerce Cloud) and you'll see what I'm getting at! Tableau is Salesforce's way of making a grand entry into analytics and data visualization. While Salesforce has an in-house analytics practice that has created the touted Einstein Analytics platform, Tableau has definitely been around longer as a mature data visualization solution. The value that this brings to the table is likely to help Salesforce give what customers have been demanding in Salesforce products, at a faster pace. The future will see Salesforce combining Tableau's capabilities with Einstein. Not to mention the 86,000 clientele like Verizon and Netflix that Tableau adds to the kitty!
Prediction #3 – Ease of integrations will drive developers more towards the clicks-not-code way.
Tableau has grown into sophisticated and deeply popular data visualization solution resting on a number of strong points. Ease of integration with different data sources is one of its key strengths. This means that Salesforce users who have been traditionally relying on custom code to create those intuitive dashboards and reports for company boards can do so without the cumbersome customizations. Tableau is equipped to provide that demanding manager with the necessary reports, giving organizational access to reliable data insights. We will know more on what Salesforce has lined up for its users once the joint game plan is drawn out and made available. What we do know for sure is that Salesforce will be aggressively pushing Tableau's impressive product suite to customers in need.
Predictions #4 – The future lies with embedded analytics.
The Tableau-Salesforce deal is expected to give the best of both worlds. Customers of the future (and today) are going to demand embedded analytics capabilities where powerful visualizations can be built into their custom built apps without additional effort. Microsoft has already been ahead of this game with their Power BI solution. Salesforce and Tableau can very well complement each other to build a formidable response to this common rival. For Tableau, Salesforce's talent pool can also bring in fresh thinking and exciting new avenues for the future..
With these predictions in mind, we have the feeling that this year's Dreamforce in November will see Tableau and data visualization in leading roles. All the more reason to be there! 
Have a prediction you'd like to share? Let us know in the comments below.