This April will see the Salesforce community in India come together for a first-of-its kind event with the Jaipur Dev Fest 2017. We had a chat with the heroes behind the curtains of the event – Salesforce MVPs Abhinav Gupta and Gaurav Kheterpal on more about the fest and here's what they had to say:
Q. What is the idea behind JDF'17?
Jaipur Dev Fest 2017, being held on 1st April 2017, in Jaipur aka the Pink City, is the first-ever community led Salesforce event in India.
As the name itself suggests, this event is more of a festival – a celebration to bring together everyone in the Indian Salesforce ecosystem – developers, admins, business users, partners, customers to join us for this 1-day event to create history together.
The decorations, theme, and mood of the event will be like that of a fest. We want JDF17 to be a joyful break for all Salesforce enthusiasts, and allow them to spend quality time learning, having fun, and networking with each other.
There will be a rolling WWDC/Google IO style 10-min keynote featuring Salesforce India key personnel (Dev Relations, Partner Team, Top Architects). Each leader in this vertical from
Salesforce can share their highly dense, but expert opinion to enthusiasts, without dragging it beyond 10-15 mins.
Dedicated Developer, Partner, Women in Tech & student tracks.
Trailhead area for books and goodies is being planned.
We hope to involve the Salesforce University and help people with their certification journeys by appearing for exams at the venue at discounted prices.
An after party to make friends in community, and take good relationships back home.
Our single objective is to give the audience an experience, which they would wish to go through again in the coming years.
The tentative agenda for JDF17 is as follows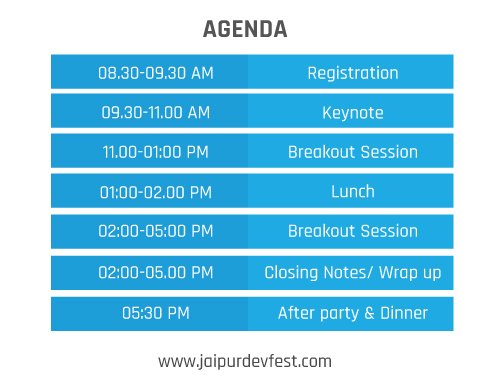 Q) Why Jaipur as the venue?  
Jaipur is the Salesforce startup hub of India. Developers in Jaipur started configuring and coding around Salesforce nearly a decade back, this city adopted the platform in those times, and is one of the leading providers of the best community and technical talent to India.
Q. What are the sessions planned for the event? How tough is the shortlisting process?
The call for session proposals will be out this week. JDF17 is all about presenting quality content for the audience – so we'll have a strict evaluation process followed by milestones for speakers for draft slides, dry runs and final submissions.
Q. Who are the keynote speakers lined up for the event?
The keynote will showcase some of the biggest names from Salesforce India team including
Rajdeep Dua

Kalki Veeraraghava Yasas

Madan Ramachandran

Shashidhar Gurumurthy

Shekhar Bhagat

Shiva Kumar G
Q. What are your attendance goals for JDF?
About 200-300 people would be a good start for the first year.
Q. Being the first ever community event for Salesforce in India, how different is it going to be from other events?
Theme and mood is all Indian, and its festive! This event will not look like any other developer event in that way, our other key differentiators will be:
High paced, and action packed keynotes, with the best executives and technocrats in Salesforce and outside, giving 10 mins bytes on their verticals, like Partners, Services, University and much more.

We are inviting some amazing architects in the Salesforce ecosystem to present their ideas.

Wider opportunity for the Community to showcase their skills, by submitting papers in CFP. It will be similar to Dreamforce, for dry runs and approvals, to ensure top and best quality sessions as we move forward.
Q. Can we expect WIT sessions along with this event?
We are opening up CFP for WIT where dedicated sessions on WIT track will be organized. It will be an amazing opportunity for WIT to showcase their skills on this platform.
Q. Tell us about the team of dreamers behind the event and how you came together?



The Team of dreamers were mostly known to each other via Jaipur DG events for the last several  years. For nearly 4-5 months, we were in discussions of doing something beyond DUG and local meetups, to engage a wider audience, and collaborate thoroughly with a wider Indian community. We started with an idea to organise a  hackathon, and some follow-up  events. We finally settled on  a festive community event, which is not only offering good learning/content, & networking opportunities, but is joyful, and festive in mood. Idea was to not make the event too serious and formal like typical developer events.
We also plan to bring out hidden gems in Salesforce and in the community through this event.
Our keynote reflects the same, we are very excited to have this amazing keynote speaker lineup in place. The content here will not be too generic, but very specific to the Indian Salesforce community, thus offering a depth of knowledge highly compressed in nearly an hour.

Same goes for our sessions, we will be having the best of speakers from India, and some talented new faces as well. Their will be a dedicated track for WIT events.
Q. Would you like to share any key details on the sponsorship opportunities available?
We're looking for sponsors to help us support and scale this event. For more details, please refer to the JDF17 website and get in touch.
Q. Where can we find more details on the event?
Twitter: https://twitter.com/jaipurdevfest
Facebook: https://www.facebook.com/jaipurdevfest
Q. Anything we missed?
The event is scheduled for April 1! And we don't intend to celebrate April Fool's day.