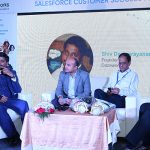 Salesforce CSP Event
This year had a very eventful beginning for Dazeworks, with the Salesforce Customer Success Platform event that took place at Taj Gateway, Kochi, intended to evangelize Salesforce in the region. Distinguished guests included Rajesh Malamal, CMO of Watasale – an autonomous and automated retail store; Robin Joy, CIO, V-Guard; representatives from Salesforce India and exclusive invitees that included CxOs and top tier executives of various companies. There were multiple sessions of presentations and interactive panel discussions.
The guests were received with a swag bag and started with a light one-on-one interaction with each other. Maria Flora, Alliance & Channel Manager, Salesforce and our CEO Shivanath Devinarayanan addressed the crowd and the event kicked off with a Dreamforce video about the 4th industrial revolution which set the tone for the presentation.
Read More