Here at Dazeworks, we understand that Salesforce is the lifeblood of several organizations with a sales team.  We also know that customizing such a robust and seemingly limitless platform can make or break the user experience. With that in mind, focus on all things Salesforce, from development, implementation from another platform or even just general guidance for your specific journey and use of the tool. With 9 global locations across the globe, and 10 MVP's we've confidently helped our clients navigate Salesforce successfully, allowing them to thrive in other aspects of their business. 
In light of our contributions to the Salesforce customer community, we've been named a top global leader in IT services and CRM management by Clutch! Out of over 160,000 vendors listed on their platform, we fall in the top 10 percent and we couldn't be happier! 
We'd like to dedicate this award to the customers who made it possible! They participated in client interviews on our behalf, ranking us for quality of service, compliance with project timelines and scheduling, as well as cost effectiveness. In reflection of those scores, we've been ranked a wonderful 4.8 star rating out of 5-stars! We're so happy to be meeting our clients' expectations! Please take a look at a recent review to see exactly how they feel: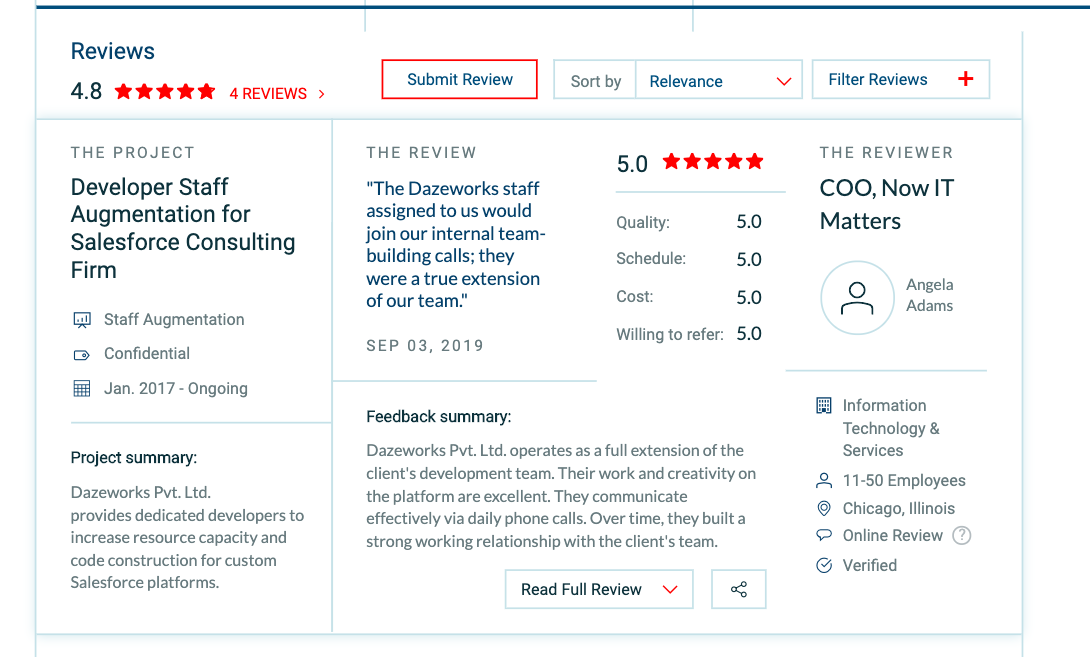 Clutch is a B2B market research firm that uses a one of a kind ratings methodology to compare agencies across a number of industries. The Manifest, a business data listing platform and how-to site, also name us on their list of top CRM consulting companies. Visual Objects, a portfolio platform for company visual projects, similarly features us on their directory of top IT firms as well! 
Thank you one and all for making this award possible. Please contact us today if you'd like help maximizing your growth and Salesforce potential with us today!