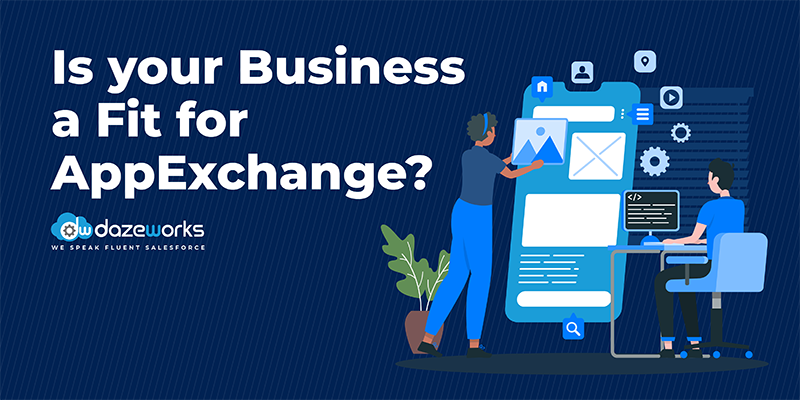 Is your Business a Fit for Appexchange?
Posted by Akshata Jaiswal
minutes read
Did you know that 85 percent of Fortune 100 companies connect with their customers with at least one Salesforce AppExchange app 1 ?
And why not!
The AppExchange is the world's first on-demand application-sharing service platform used for browsing, testing, and installing applications available in the directory. Though some of the apps are created by Salesforce developers, the majority of them are released by third-party independent software vendors (ISVs) who use the Salesforce Lightning platform.
But before we look into the other benefits of publishing solutions on app exchange, let's understand what the platform is all about.
What is AppExchanage?
Salesforce created the AppExchange for businesses to deliver anything from point solutions to full-fledged professional automation apps, allowing them to reach measurable business goals in the cloud. It is the leading enterprise cloud marketplace offering solutions such as apps, components, and consulting services for the varied needs of any department, role, or industry.
With an ecosystem of over 4000 solutions, 90,000 reviews, and 7.5 million installs, the AppExchange today empowers businesses to automate their tedious tasks, consolidate customer data, solve any business challenge and integrate their systems with the Salesforce platform. In fact, 71% of all Salesforce customers install the best apps from the AppExchange 2 .
Why publish your solutions on AppExchange?
AppExchange has evolved into a major hub with potential connections, helping companies expand and increase their business exposure. Thus it offers a large professional market to developers who are looking to publish their apps. According to Salesforce's statistics, 86% of customers use partner apps and solutions on AppExchange 3 .
Developers can easily navigate and search other apps with the help of personalized recommendations, search filtering and find out the performance of their apps through app ranking, and a demo mode. It can also provide free press and advertisement for your app in the salesforce weekly Appexchange Digest email, broadening your connections.
Types of businesses on the AppExchange
1. Connectors for Integration
Integration refers to connecting applications that allow businesses to receive data from one app solution and make it accessible in the other app solutions. Hence, this process requires connectors that act as middleware to translate data and make them understandable by the receiving system.
The Connector is placed between the application's API and the Open Integration API, linking you to a destination device from your point of reference. It standardizes data and determines the functions of integration, allowing businesses to automate essential processes and solve complex workflows. These connectors enable businesses to integrate directly with the APIs of the applications, bringing the entire business ecosystem together. For successful and stable integration, connectors adhere to all API guidelines, authorization, and data transformation parameters.
Benefits
Easily integrates with other applications to connect to your favorite tools.
Automates workflow reducing or even eliminating manual workflow.
Transforms API from developer-focused to business-focused.
Creates new revenue opportunities
Examples : CTI Connector for Genesys, ServiceRocket Connector for Salesforce and Jira, G2 Connector
2. OEM Embedded Applications
OEM (Original Equipment Manufacturer) applications refer to the software components developed by one company and used by other software or hardware manufacturers to sell the final product to users.
In the Salesforce world, OEM applications are created for businesses having existing Salesforce customers and for net new customers who haven't used Salesforce at all. The advantage of OEM Embedded apps is that developers can market them directly to consumers without having to enter into a separate agreement with Salesforce.com. Just like the ISVforce application, existing Salesforce customers can browse, purchase and install these applications from the AppExchange.
OEM Embedded Apps or Lightning Platform Embedded Apps can access a few Sales and Service Cloud objects such as leads, opportunities, and campaigns along with workflows, reporting, and security, but they cannot bring those objects to users. Customers can build OEM embedded apps if their app does not depend on the Sales or Service Cloud capabilities.
Benefits
Offer developers a secure platform to focus on their product.
Allow building and selling on-demand applications.
Developers have the freedom to choose their own delivery methods.
ISV in the Salesforce ecosystem refers to a partner who has built an application on the Salesforce platform and sells it to the existing customers through AppExchange. Many considering developing an app on the Appexchange have two paths for crafting compatible apps.
External applications – These applications integrate using the Salesforce API and can run on the customer platform or devices. The data here is collected and stored by a third party and then transmitted to the Salesforce Lightning Platform database through the Salesforce API.
Native salesforce applications – These applications are entirely developed using the Salesforce Lightning Platform. It is hosted, managed, and delivered by Salesforce.com and does not use any code other than Visualforce, Apex, or Lighting components.
Being built on Force.com, these applications establish the software structure which allows other Salesforce solutions to connect readily with the app. Moreover, native applications do not require a separate Salesforce integration using APIs. Instead, it seamlessly transfers data and initiates processes.
Since all the ISV applications are built on the Salesforce platform, apps on the AppExchange run seamlessly into the Salesforce environment
Benefits
Offers a seamless, cohesive business process on a single platform.
Allows developing or extending applications using custom objects.
Avoids integration maintenance and other hidden costs.
Provides data integrity and data fluidity for the entire organization.
Examples : Dialero, Formstack.
How can you avail benefits of the AppExchange?
All you need to do is get in touch with a verified Salesforce consulting partner like us. Dazeworks is a Platinum Salesforce Partner with an experienced team of 120+ Salesforce developers. We have worked with 250+ companies from 15+ industries in their digital transformation journey, helping them create a customized roadmap for their organization's growing needs.
Read more about what our clients have to say!
If your organization is looking to move away from inflexible business models, we can be your partner to migrate into next-generation technologies.
How about booking a free consultation?