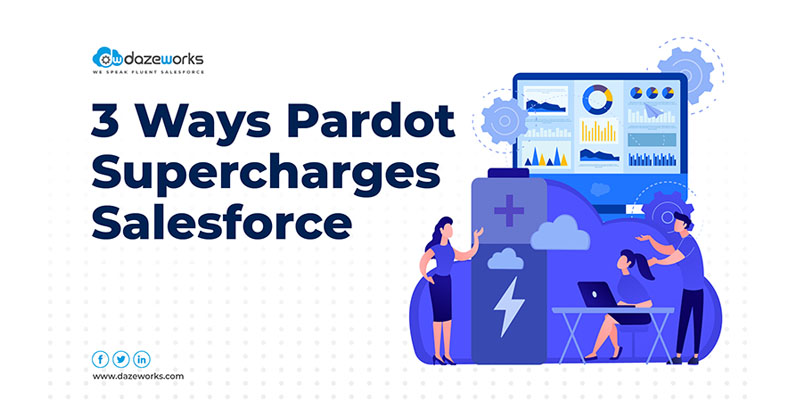 3 Ways Pardot Supercharges Salesforce
minutes read
Integrating marketing automation into your CRM is a force to be reckoned with. Together they are a powerhouse that can transform your entire business with increased sales productivity and revenue growth.
Not convinced? 
Three-quarters of all companies use marketing automation according to Social Media Today "State of Marketing Automation Survey Report" (2019) and more than half of B2B companies (58%) plan to adopt the technology according to the Ultimate Marketing Automation stats. (2021)
Now picture a smart automation tool like Pardot integrated into the world's #1 CRM platform Salesforce. How does Pardot unlock the potential in Salesforce? Let's find out. 
Better Control Over Lead Management
Poor lead management can cost you a lot more than you can imagine. One of the major reasons why companies fail is the lack of cost effective lead management. Unqualified leads getting into the pipeline as 'hot prospects' and pursuing leads which bring no value are few examples of this scenario. Did you know that 61% of B2B marketers send all leads directly to sales, despite the fact that only 27% of those leads will be qualified? 
Here is where Pardot and its exceptional lead nurturing capabilities can be of help. 
The marketing team can use Pardot to nurture leads until they enter the 'sales ready' state.

Pardot helps marketers  to rank incoming leads so that only the most qualified leads will enter the sales pipeline. The lead score will be reflected in Salesforce which can be viewed by both parties to analyze if it qualifies. This can save both time and effort of the marketing and sales teams, as now the sales reps only  have to chase buyers who are definitely interested and the marketing team can now showcase a database filled with qualified leads.  

Now that only qualified leads reach the sales pipeline, it is easier to assign the leads to the right sales rep at the right time. 

There is no need to manually update prospect profiles as Pardot enables the team to enter this information automatically both in Pardot and Salesforce. 
Fast and Intelligent Selling
Selling harder isn't enough. You may be surrounded by an ocean of data, but the important point is to make sense of it. Earlier it was difficult to start a buyer conversation in the right direction as there was no relevant information surrounding them. But with Pardot and Salesforce working together, it is easier for sales reps to sell smarter and faster than before. 
Using Pardot, the marketing team can closely monitor buyer behavior like what website they are currently visiting, what type of content they are reading and are more interested in. As Salesforce and Pardot are tightly integrated, all this information will be seen within Salesforce. 

You will get real time alerts when a prospective buyer visits your website or takes a particular action that is important enough to be qualified as a lead.
Smart Reporting
Your campaign cannot be deemed successful unless you have measured and tracked the performance. Integrating Pardot into Salesforce helps in insightful ROI reporting. When coupled with Salesforce, it enables you to create detailed reports that draw valuable insights regarding your campaign efforts. The sales and marketing teams can equally claim their contribution in lead conversion.
Campaign ROI analysis is a lot easier when Pardot is coupled with Salesforce. The marketing team can connect their campaign efforts to sales data through Salesforce. This enables them to attribute the closed deals back to marketing efforts and analyse campaign success across all touch points. 

Bi-directional syncing of Salesforce and Pardot enables closed loop reporting. This way,  both sales and marketing teams have access to all the data and relevant information collected through the campaign. 

The prospect lifecycle report throws light on your sales funnel health and a high level view of your entire sales cycle. It identifies where and why opportunities get lost and helps tweak marketing efforts accordingly. 
Interested in Salesforce Pardot integration services? Get in touch with our Salesforce consulting team to talk about your requirements. 
References:
https://marcloudconsulting.com/support/marketing-attribution-salesforce
https://a.sfdcstatic.com/content/dam/www/ocms/assets/pdf/datasheets/
8_Ways_Pardot_Can_Unlock_Salesforce_CRM_eBook.pdf
https://www.salesforceben.com/pardot-salesforce-work-together/