Salesforce Ohana is a deep-seated support system. And, it doesn't stop at employees — it extends to its partners, customers, and members of the communities i.e. Ohana. We are deeply thankful to Maria Flora, Partner Manager at Salesforce for giving us an opportunity to learn more on tips and tricks to building superb demos for our presales processes. This 2-day partner enablement program organized by Salesforce had attendees from various Salesforce partners companies. The first day of the program included training sessions and was a great precursor to the demo competition on the second day.
Day 1: Training Day
"Once you stop learning, you start dying" – Albert Einstein
The day started at Salesforce Office, Hyderabad with a cappuccino accompanied by Mitul Patel, my colleague and business analyst at Dazeworks. Our training began with an obvious, but pertinent question – What is a demo? For starters, "A demo is about telling a story that is relevant for your audience and showing value. Learning about customer's challenges and addressing them using Salesforce. Use customer stories and compressed 'day in a life' examples. Spicing it up with analogies, quotes, and humor to make customers understand that we can solve their business challenges with Salesforce". We got to know first-hand about the best practices that Salesforce uses to build their state-of-the-art demos. We had many of our questions answered including
How to make attractive demos?
How to build demos fast?
How to plan for a demo?
How to engage the audience of every type?
And so on….
Our interactive session ended with a hands-on exercise for a scenario to be built.
Building the Solution
"By failing to prepare, you are preparing to fail." – With this thought, we started planning our demo. Our scenario was for a virtual company "Cirrus Solar Inc.", a multi-national provider of solar energy products and systems for residential and commercial customers. Cirrus is an Singapore based company, who recently expanded into the India market. This company has aggressive growth targets to grow at 80% per annum, with a goal to reach $100M in revenue by 2020.
Currently, Cirrus has a small instance of Salesforce Sales Cloud & Service Cloud that is used by the sales team for leads, opportunity, sales reporting, customer service and tracking. They are fine with initial implementation, but needs improvement in Service part. The discovery meeting with the customer results in the following points:-
Improved service solution, and have budget allocated, but no business case approved as yet.
Key objective is to be fully digital and remove all paper based processes.
Revamp the support process to build a strong foundation which then can help to scale the support of their growth – Omni Channel engagement
Customer self service
Proactive engagement
Now, it was the time to figure out the solution in Salesforce for each of the pain points discovered during the meeting. With a lot of brainstorming and healthy discussions, we prepared an architecture for the proposed solution.


The next step was to implement the solution onto the Salesforce Platform. After implementation, we tested and reviewed our work thoroughly to make sure requirements have been correctly mapped. The key components of our solution were :
Customer Communities
Service Console
Knowledge Base Articles
E-signature
IOT
Partner Onboarding
Lead Management
Day 2: Competition Day
"It is nice to have valid competition; it pushes you to do better." – Gianni Versace
A sun-baked Hyderabad morning with everyone bustling to work! We reached Salesforce at 9 – excited about presenting our demo to the panel. Mitul perfectly delivered the demo to the panel, covering all points smoothly and on schedule. [Bonus Tip 😀 : Always carry a backup with you in case of unexpected problems. As soon as we started presenting the demo, there was an issue with bandwidth and our page was not loading. Thanks to our backup, the network (villain in this case) did not ruin our presentation.]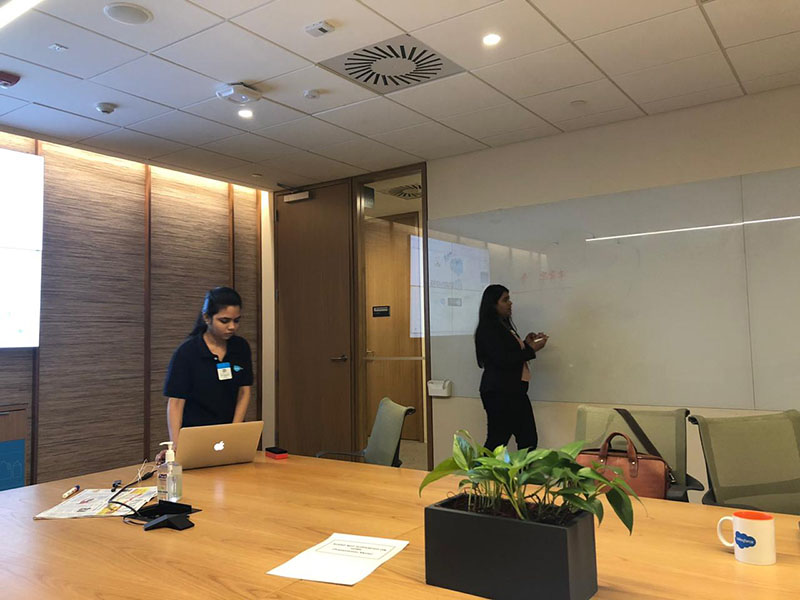 When the results were announced, we were thrilled that our hard work paid off. Needless to say, it was an amazing feeling to bag a win!! We went home with two awesome Sony bass speakers as a gift.
Its a Wrap
I would like to thank the Salesforce Partner program for organizing such an amazing training. Salesforce community is where we care and strive hard for the growth of each other unconditionally. Thank you Dazeworks for choosing us to be a part of this competition. The credit for this win goes to the whole Dazeworks team…my family!!