Jaipur Dev Fest aka JDF is a special event for me as it was my 1st ever Dev fest last year. We were platinum sponsors and had a booth too – Oh! That was a lot of fun!
This year, Dazeworks were gold sponsors and the JDF team came with a bash! They had SMS alerts and calendar invites and an organised and well-planned registration too.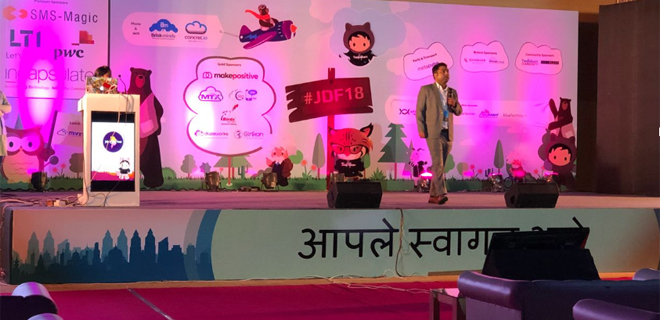 The pre-event party was on the rooftop besides the pool. The entire ambiance was of a candle night dinner. Meeting community friends from different places of India under a huge full moon had a bright conversation exchange. We ended the night with a special Dazeworks team dinner at Chokhi Dhani, where we could experience the culture and food of Rajasthan. That night was indeed special.
The event day:
The event venue was the highlight. A beautiful place with with delicious food and timely tea breaks at Chowpatty. The whole place was decorated with standees and banners. The registration kit even had a diary from the trailblazer community. Thanks to the JDF team for that.
The sessions were all in the first floor in different rooms named along the Mumbai-ya theme – Mumbai Central, Dadar, Bandra, Churchgate, Navi Mumbai, Thane. Thank you to all from Salesforce who had made mark with their presence. All the speakers need a special mention right from Leadership Keynote till the closing note. We had a few speakers from our end too, Shruti Sridharan and Pritam Shekhawat. And Dazeworks was listed as one of the social media rockers by the JDF team at the closing session, thank you for that too 🙂 We had a lot of fun sharing the excitement of the event with our online community.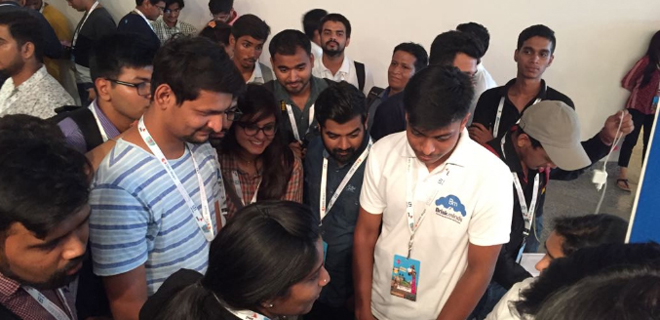 The booths were all well placed and had a great crowd too. Completely pepped up! We would like to thank our sponsor volunteer and point-of-contact Shubham Gupta here for all his timely help. We had 16 members from Dazeworks around the entire event who had travelled from different places in India. We had some great swags too! Many had won lot of swags and special mention to Nidhi Vyas who won the jackpot!! She won each swag that we had on our booth.
The demo jam  deserves a special mention here. Joshua Hoskins, the 'demo jam expert' had made his presence felt as always. Every presentation had something different and beating all the odds, the winner was none other than AutoRabit – twice in a row!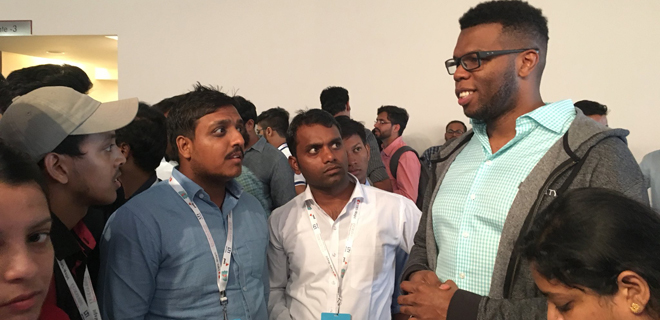 We all had our special sponsor spotlight time and Dazeworks gave me a good opportunity to speak at the event along with none other than our COO and MVP Vinay Chaturvedi. The event surely missed getting "Shivd" (Selfie with Shiv) as Gaurav Kheterpal mentioned! 😉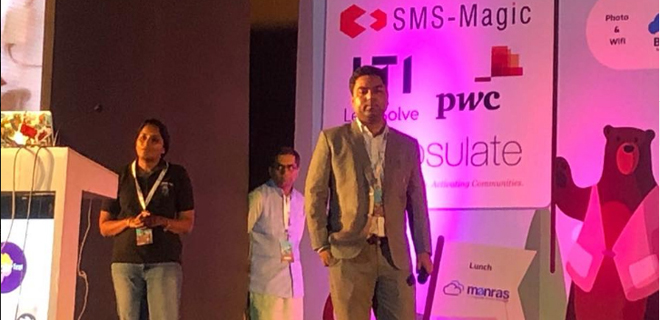 After all the sessions there was a sponsor gift given by the JDF team to attendees who answered one question about each sponsors. The winner of our sponsor gift was Gaurav Jain, Hyderabad User group leader! Congratulations to him!!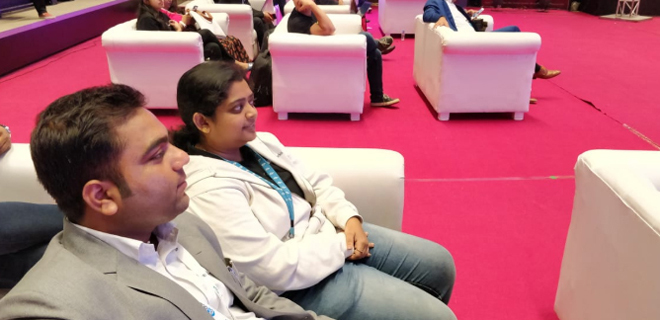 The event came to an end by 6.30 p.m. with the JDF team thanking each one of the speakers, sponsors volunteers, and team at circle success.
Then came the party. It started with some cool music by a band. Dinner was served and then there was music and dance with people enjoying the success of the event.
Thanks to the JDF team, sponsors, speakers, volunteers, core team and attendees who made my JDF participation a memorable one!