Want tomorrow to be different?
Streamlining business processes can make life less of a headache for everyone. It can increase an organization's efficiency by simplifying tasks, bypassing unnecessary steps and cutting work load, all by using the most modern process modeling techniques. You always need to have a strategic plan and should know to prioritize things when you are at work. And the end result? Your office space can turn into your happy place!
Is your business ready to embrace digital transformation?

Help businesses go paperless! When files are digitally stored in the cloud, your organization instantly becomes more flexible. In this new world of changing technologies, businesses are experiencing a major digital transformation. You need to leverage and apply the right digital technologies and capabilities to create and capture new business value, keep pace with external change, and stay competitive in the marketplace. 'Digital Transformation' does not simply happen in a flash with the flourish of an IT Fairy Godmother's wand — it's a substantial endeavor with various levels of hazard avoidance, differing spending plans, and choices about the sheer number of tools and tech accessible.
A recent survey of nonprofits in the United Kingdom produced a rather sobering "State of the Nonprofit Sector" when it comes to digital transformation. The study found that 35 percent of the surveyed nonprofits use digital technologies, but don't have a strategic approach. An additional 12 percent are in the thinking stages of a digital strategy, with three percent still struggling to access basic tools. Most dramatically, digital technologies have exploded how nonprofits think about data and innovation.
Best minds in Salesforce!
Dazeworks is a pure play Salesforce consulting company with consistent bouts of innovation. We deliver top-notch cloud solutions to companies. We are real-world consultants who understand your challenges, advise you on the best steps to tackle them and work towards achieving it with your team. We don't simply comprehend the subtleties of the innovation included, but also recognize the basic business challenges that should be tended to for each undertaking to hit its stamp.
Driven by Salesforce MVP Shivanath Devinarayanan along with completely ensured Salesforce engineers furnishes you with the business design initiative and bits of knowledge expected to get the majority of your Salesforce speculation. Their goal is to deliver an architecture that supports the most efficient and secure IT environment meeting a company's business needs. The work that we have carried out with our current customers have spun around tutoring and managing their in-house groups, introducing specialized outline sessions, architecting technical arrangements and driving the custom improvement of arrangements and interfaces.
Dazeworks provides you with different products and services.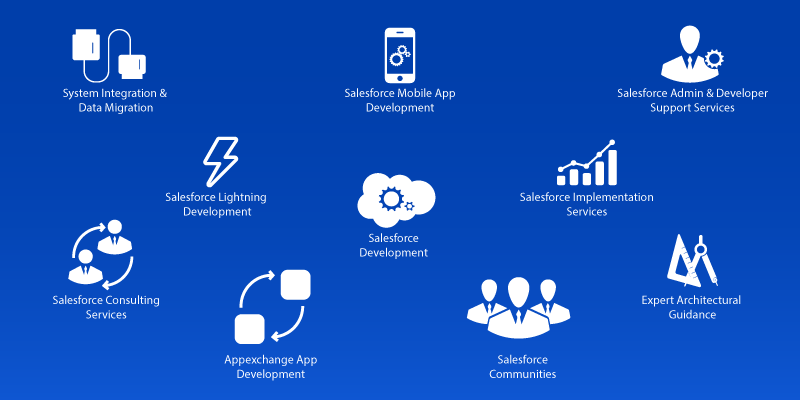 Products
A Salesforce CRM implementation helps integrate all business related processes and workflows on one platform. Even small businesses can implement marketing automation bringing in new customers and nurturing the ones they already have, without an army of marketers. With the Salesforce platform, you can integrate disparate systems to build a unified view of your customer. App Cloud is unified and connected with robust APIs and services perfect for integration between systems. Big data analysis tool makes it possible to find all of the information your company needs in order to achieve lasting success. AppExchange can help you grow faster if you're looking for applications to accelerate internal implementations or looking to grow your business by selling apps or components to other customers.
With another breakthrough, we have extended our network by launching our new office in Sri lanka! The office is located at the East Tower of the World Trade Centre, Echelon Square in Colombo. We now have our global presence across Kochi,Bangalore, US, UK, UAE, Africa, Canada and Sri lanka.
For a free consulting hour on how Salesforce can fit your business,  Contact our expert consultants at Dazeworks.